Climate Coaching Action Day, 2nd March 2023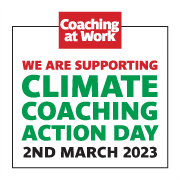 Climate Coaching Action Day was launched in March 2020 by Coaching at Work with the aim of establishing a global annual celebration and promotion of climate coaching. Many including individuals and organisations have embraced the initiative.
The International Society for Coaching Psychology (ISCP), ISCP International Centre for Coaching Psychology Research and the ISCP Faculty of Climate Change and Coaching Psychology support Climate Coaching Action Day.
The date for the next Action Day is 2nd March, 2023. In support of the event, the ISCP is releasing the last keynote the late Dr Alison Whybrow gave at the 11th International Congress of Coaching Psychology, sponsored by the ISCP in 2021 to watch during March, in support of Climate Coaching Action Day and in memory of Alison and her outstanding contribution to the coaching psychology profession and the field of climate conscious coaching. The Zoom link to the keynote recording, 'How do we create relationships able to hold reconnection and recovery?' is available below. This keynote has an introduction by Dr Siobhain O'Riordan and Prof Stephen Palmer which was included for the ISCP Congress in 2022. You can read about Alison's concerns regarding the climate crisis in her article titled, 'We are not OK' and can be read here. Alison's last co-editorial for the Journal of Ecopsychology can be found here.
Click 'HERE' for Zoom link to keynote: How do we create relationships able to hold reconnection and recovery?
The ISCP are partners of the Climate Coaching Alliance Global Festival held during March. The festival theme is Tools for Transitions: Navigating the Paradoxes, Polarities and Paradigms in Climate Coaching. The Festival is free and is being delivered in two parts. The first is a series of curated keynote presentations while the second delivers over 50 wide-ranging workshops and reflective and engaging events in different languages across varying time zones. These will be led by CCA members and associated partners from every corner of the globe.
The ISCP is also releasing the Coaching Psychology International special issue titled 'Ecopsychology informed coaching psychology' co-edited by Siobhain O'Riordan and Stephen Palmer. See below.
---
Climate Coaching Action Day on social media
Hashtag: #climatecoachingactionday
Get involved
Facebook: www.facebook.com/groups/ClimateCoachingActionDay
LinkedIn: www.linkedin.com/groups/8869975/
Twitter: @climatecoachday
---
Special-Issue-Cover-merged